Visit the Bozeman AAUW Branch website (click here)
About Us
The Bozeman AAUW Branch, formed in 1925, has been active for 90 years. The branch has over 20 members living in Bozeman, Belgrade, and other areas of Gallatin County and SW Montana.
For spring 2016 Start Smart Salary Negotiation Workshops, Locations, and Registration information go to START SMART/WORK SMART WORKSHOPS tab on top menu bar or (Click Here).
For information about Past 2014 & 2015 AAUW-Bozeman Branch, MSU & AAUW-MT Sponsored Salary Negotiation Workshops (Click here)
---
Meetings
The branch board of directors meets monthly. Bi-annual branch luncheons/socials are held in later spring and again in December. Branch events, such as "Wine, Sparkling Cider, Cheese and Cracker" and "Summer Salad" socials are held several times during the year. Additional meetings and community events are scheduled at other times during the year. In August 2015 the branch members staffed an AAUW Branch table at the two-day Montana State University (MSU) Catapolooza welcome event for new students and parents. During the two-day event the branch shared information about AAUW membership, signed students up for AAUW MSU College/University "e-student" membership, and shared other branch program information. Regular observances of Equality Day and Constitution Day are also held.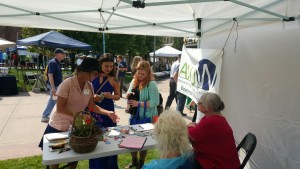 ---
Programs and Activities
AAUW-Bozeman branch members are actively supporting the AAUW-MT Start Smart Salary Negotiation workshops for young women (and interested men) being held on the MSU Bozeman campus and at Gallatin College of MSU. The branch participated in the first Start Smart workshop held in February 2014, and members have actively participated and helped with several subsequent workshops and facilitator trainings held in March and May of 2015.
AAUW-Bozeman is an member of the Montana Women's Lobby and frequently co-sponsors candidate forums with the Bozeman chapters of the League of Women Voters and the Business and Professional Women (BPW).
---
Interest Groups
A group of members are forming a book group and further information will be posted soon.
---
Contact Information
For more information about the branch and how to join contact us at Branch Board or AAUW-Bozeman Branch.
Cheryl Juergens, Branch President
Cassidy Medicine Horse, President-Elect
Barbara Brown, Past-President
Rosanne Nash, Communications
Debbie Blackburn, Finance Director
Jennifer Woodcock, Co-Program Chair
Corky Bush, Co-Program Chair
Cindy Carlton, Special Events
---
Ready to Join?
Fill out our online membership form.
---
Bozeman Member Featured in Local Magazine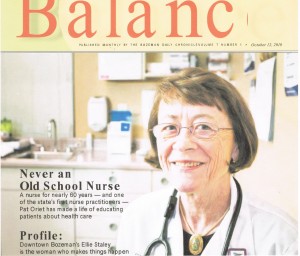 Pat Oriet, an AAUW-Bozeman member since 1993, graced the cover of Balance, a monthly supplement to the Bozeman Daily Chronicle about local women. Recognizing her long service to the local Bozeman health community, the two-page article demonstrates just what a special woman Pat is.