AAUW-MT Salary Negotiation Workshops in Montana
Fall 2015 Start Smart/Work Smart Workshops
City College of MSU, Billings, MT, November 21th 2015
University of Montana, Missoula, MT, Nov 14th 2015
University of Montana Western (UWM), Dillon, MT Nov 9th, 2015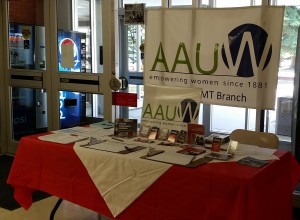 Great Falls College of MSU, Great Falls, MT, Oct 19th, 2015
 

Montana State University, Bozeman, MT, Oct 17th, 2015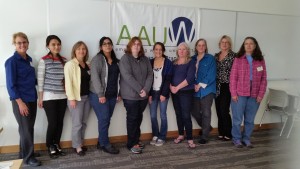 The fall 2015 semester Start Smart Salary Negotiation workshop was held in the Jake Jabs College of Business on Saturday October 17th. The workshop was sponsored by the AAUW-Bozeman Branch, the MSU Women's Center, and the Business College.
Helena College of UM, Helena, MT, October 8th, 2015
The first 2015-16 Salary Negotiation workshop sponsored by the AAUW-MT Grant Project and conducted by facilitators trained in March 2015 was held at Helena College of UM on October 8th. Sponsored by AAUW-MT and Helena College the participants included students and staff.
National AAUW Trainer Comes to MT in March 2015
Montana State University, Bozeman, MT, March 21st, 2015
National AAUW & Wage Project Trainer comes to MT
Montana State University (MSU), Bozeman, MT, Feb. 1, 2014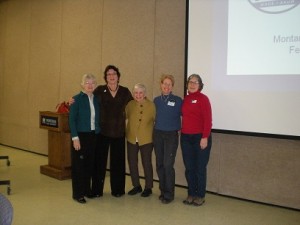 When Montana State University (MSU) decided to sponsor the first Start Smart salary negotiation workshop to be held in the state, AAUW-MT and AAUW-Bozeman agreed to co-sponsor the event.  Annie Houle (center in photo) flew in from North Carolina to facilitate both a Work$mart workshop in Helena on Friday, January 31, 2014, and MSU's Start Smart workshop on Saturday, February 1.  Despite snowy weather, the workshop was attended by almost 40 young women.