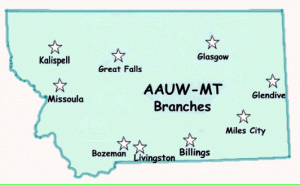 AAUW-Montana has nine community-based branches scattered across the state.  See the map at the right for the locations. These branches range in size from ten to almost 100 members, and all welcome new members.
We also have one statewide branch, AAUW-Treasure State, which allows AAUW members who live more than 25 miles from a community-based branch to belong to AAUW-Montana while supporting AAUW activities and programs in the state.
For details about each branch and contact information, please place your mouse over the Branches heading above and use our dropdown menu.